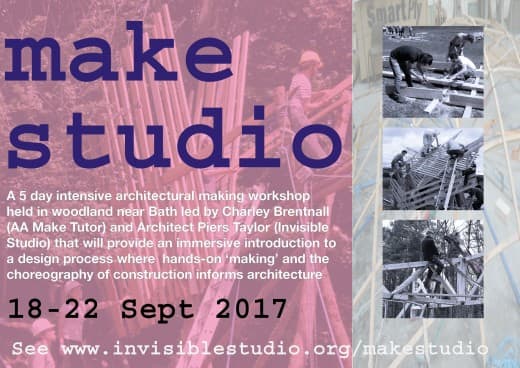 A 5 day intensive making workshop, held in a 100 acre woodland near Bath from 18-22 September 2017 (inclusive) that provides participants a rare opportunity for an immersive introduction into the world of Design and Make. The workshop is led by renowned carpenter and innovative timber framer Charley Brentnall (AA Make Tutor on the M Arch Design and Make program at Hooke Park and Chairman of Carpenter Oak and Woodland) and award winning architect and academic Piers Taylor (Founder of Invisible Studio and Studio in the Woods), both of whom have extensive experience of running Design/Make workshops.
The workshop will provide an opportunity for participants to understand how making can inform the design process. The course is limited to 10 participants, and we encourage applications from practicing architects, academics as well as students. Students will work in a collaborative group, exploring the entire design process from milling timber to designing and building an experimental structure.
The cost of the course is £800 + VAT, and will include all materials and tuition, plus lunches.  Accommodation is not included, but camping is available 1/2 a mile away HERE, and there are many B&Bs locally. For further information, please email info@invisiblestudio.org. Please book HERE.