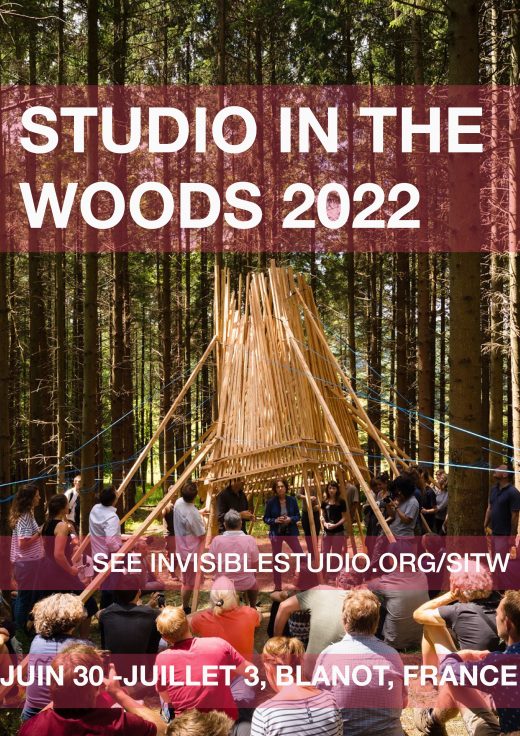 Studio in the Woods 2022 is on. Booking HERE
See a gallery of previous Studio in the Woods projects HERE
Studio in the Woods is an ongoing education and research project established in 2005. It was founded and is convened by Piers Taylor (Invisible Studio) with Kate Darby (Kate Darby Architects), Meredith Bowles (Mole) and Gianni Botsford (Gianni Botsford Architects) as a vehicle to test ideas through making at 1:1, paying reverence to the overlooked and the nearby. Each year, Taylor, Darby, Bowles and Botsford have been joined by a number of other practitioners and academics in leading workshops with students over 3 or 4 days in summer time.
These workshop leaders include Barbara Kaucky and Susanne Tutsch (Erect Architecture) Je Ahn and Maria Smith (Studio Weave) Lee Ivett (Baxendale) Lynton Pepper (Architecture00) Shin Egashira (Architectural Association) Lena Gotmeh (Lena Gotmeh Architecture) Toby Lewis and Akos Juhasz (Feilden Clegg Bradley Studios) Fergus Feilden (Feilden Fowles) Guan Lee (Grymsdyke Farm/Bartlett) Hannah Durham (Cullinan Studio) Charley Brentnall (Xylotek) Zoe Berman (Berman Studio) Carolina Vasilikou (University of Reading) Tim Lucas (Price and Myers) and Jack Hawker (Momentum). Visiting critics are Niall McLaughlin, Robert Mull, Peter Clegg and Ted Cullinan.
Studio in the Woods is now part of the Global Free Unit Network which has a number of 'classrooms' globally where power is handed back to the student and learning can take place outside of the framework of conventional academic institutions.
Studio in the Woods lands in a different context each year, and has taken place in a number of different locations including the woodlands managed as part of the Invisible Studio Project, where Studio in the Woods started.  In 2018,  Studio in the Woods decamped to the Wyre Forest and was hosted by the Wyre Community Land Trust with funding provided by the Guild of St George with additional funding from the Ruskin in Wyre HLF project as part of a strategy to explore future uses for the timber from the Wyre Forest. In 2021, Studio in the Woods is taking place in France.
Read James Payne's 5 start review in BD. and text below from Piers Taylor & Peter Clegg:
Astonishing as it may seem, most architecture Students have limited contact with real materials or construction and instead operate in a kind of parallel universe where projects are imagined in abstract at scale in a kind of weird digital code space, a space where ad hoc, inventive and impromptu decision making is excluded from the design process. Studio in the Woods began as a reaction to this about 12 years ago, but didn't begin with a manifesto – I simply asked the cleverest and most interesting architects I knew if they fancied coming down to the woods around my house to make some stuff with some students over one long hot weekend in July. To a certain degree, I'm always slightly nervous of premeditating too much, and taking a cue from Dylan, we just threw the cards up in the air to see where they landed.
Where they landed – or what came out of the first weekend – set the pattern for subsequent years. We'd ignore any given brief, and, in about 5 parallel groups of architects and students over three days, design and construct– with a simple kit of parts and a limited palette – a research project over three days, and we'd intersperse the incredible hard work with great food, compelling talks and pearls of poetic wisdom from Niall McLaughlin & Ted Cullinan and sound pragmatic advice from Peter Clegg, and refreshing irreverence from the punk designer David Connor. Over time, we all fell in love with timber – we'd all had limited contact with it, and it was thrilling to embrace the tactile, volatile and almost carnal qualities of wood.
Studio in the ­Woods doesn't really exist – it's an invisible studio and was the initial inspiration for a way of working that became my practice – Invisible Studio. There's no institution, no one owns it, no organisation funds it, no one audits it, and it is beholden to no one. It's a group of people that have come together each year for the last twelve years, and each time there's never any sense that it will necessarily happen again.
Like my practice, I like to think Studio in the Woods happens despite me, not because of me. It grew out of a frustration of having taught in institutions that I felt out of synch with, places where people talked about learning outcomes above all else, and out of a joy I felt in the chaos and surprise of making quickly at 1:1. It was also, selfishly, a way of getting together many of the people I had respect for, hanging out with them for a few days and watching them do their stuff. In addition to Peter, Niall and Ted, These people were Meredith Bowles, Kate Darby, Gianni Botsford, Toby Lewis, Charley Brentnall, and in recent years Susanne Tutsch, Barbara Kaucky Je Ahn and Maria Smith, Akos Juhasz, Fergus Feilden, Lynton Pepper and Lee Ivett. We've also been joined by Toby Maclean, Lena Ghotmeh, Shin Egashira and Martin Self (who led the AA pavilion projects and now is the Director of the AA's Hooke Park) to name a few, plus, of course, the brightest and best students from all over the world.
There's been a desire for those on the outside to try and pigeon hole what we do – that it's either 'wilfully odd' (astonishingly, from a BA course leader at a mainstream University), or as if being interested in wood and place means we're only interested in wood and place and as if mainly operating with lo-tech equipment during the workshop means we're somehow anti technology and anti modernity. Quite the reverse is true, and I suspect that one of the questions that many of us have in the back of our minds is how the realm of digital simulation and fabrication can co-exist with adzes, spuds, cat's paws, hammers and chisels. In many ways Studio in the Woods is a celebration of our diversity (as individuals, as a group) as much as our similarities and I'd hate it to be limited to a predefined ethos. Niall McLaughlin called it 'a place 'where builders, architects and students collaborate on projects, paying reverence to the overlooked and the nearby'.
I don't know what we'll do next year, or where we'll do it, but what I do know about Studio in the Woods is this: The power of working in a group; the fascination of seeing the diverse approaches of these different groups and tutors; the joy of the happy accident; the intensity of bringing something to a conclusion in a short space of time; the visceral thrill of materials, and of timber; the heady pleasure of working outside in summertime; watching people at the top of their game; seeing the intelligence of the students; the pleasure of being surrounded by good friends, and James Payne's pithy observation that it's not JUST a forum for a bunch of chainsaw wielding hippies, but there's also serious intellectual debate.
Piers Taylor 
Peter Clegg wrote this  piece after last 2011:
For the Chinese, wood is the fifth element,- right up there with earth, air, fire and water. For Studio in the Woods, now in its 6th year, the subject is both the material and its provenance. In a 3 day weekend on the Isle of Wight, dedicated groups of students and tutors, brought together initially by the abundant energy of Piers Taylor, work in wood, and in and around the woods. They start with the observation of nature and place, graduating to hypothesis and concept. The students are given recently felled trees to work with and are responsible for the milling of their timber. Then they become builders. Ted Cullinan and myself share the enjoyable task of providing a final crit for each teams work. This year was especially poignant as it was Ted's 80th birthday celebration, and it was great to have him back full of wit and wisdom, good health and uproarious good humour after a long period of hospitalization.
A group led by Gianni Botsford and Kate Darby built an extraordinary structure that captured the space delineated by sunlight that entered through two constructed "windows". Kate and Gianni have been part of the Studio since its inception 6 years ago and have built up a body of work around the movement of the sun, – the representation of the organic spatial forms prescribed by straight lines of sunlight. Ted Cullinan in his final crit paid homage to them as "cosmologists".
Toby Lewis, another SITW founder member led a team who constructed a suspended hammock-like platform, the shape being derived from a desire to create both individual and collective spaces, and to wrap around an existing wind-blown tree. Like many of Toby's studio's previous projects the establishing of angular and horizontal forms provides a counterpoint to the sloping topography of a natural site. Ted christened the group "the Levellers"
Erect Architecture's Barbara Kaucky and Susanne Tutsch and their students found a site on the edge of a small and delightful chalk pit cut into the sloping hillside. The scissor-like structure constructed had a Janus quality to it with a single platform viewing outwards to the larger landscape, and a stepped and canopied arena to observe the more placid environment within the hollow. Ted christened them the elves, for the way they quietly worked away in theminiature topographical environment that inspired them.
Studio Weave (Je Ahn and Maria Smith) chose a similar theme but a dramatically different site. With an unusually high proportion of tall men in their team Ted christened them the Giants and they crafted a gigantic megaphone-like structure that addressed the dramatic views, in one direction, towards the Solent, with an elegantly proportioned series of steps housed within a frame that reduced in size as it receded from the view. In the opposite direction the view was focussed onto the similar but upturned form that resulted from the team's endeavours the previous year. Once again there is a story of ongoing preoccupations.
Piers Taylor and Meredith Bowles led a team which decided this year to go for maximum intervention. There was a clear logic to the construction of a series of triangulated and cross-braced trusses each of which could be easily raised from the ground without scaffolding, but beyond that the structure seemed to grow wilfully and organically. It reminded Ted of the abstract expressionism of Jackson Pollock, the process being based on one structural move encouraging a counter move, and as with abstract expressionism one of the most difficult things to decide is when the work is complete. There was an intriguing element of surprise in discovering the logic in the chaotic structure that emerged
Surprise is what Studio in the Woods is all about. Surprise in the discovery and celebration of relationships in nature. Surprise at the beauty, colour, smell and extraordinary nature of new sawn timber. Surprise at the outstanding creative output of a group of students over only a two day project. In trying to summarise the output of this eventful two days, Ted and I were reminded again of the relevance of 'making' in architectural education. In an era where students are so often relying on secondary-sourced material and digital delusions, it is refreshing to find the principals of observation/hypothesis/fabrication/installation/revelation built into a creative design process. It is even more significant in the depths of a recession that young architects can more easily become builders, and extend the range of their vocation. Both us of started practices where the understanding of building influenced our design: both of us enjoyed the process of construction ourselves. Studio in the Woods reminds us of the synergy between observing, designing and making. Long may it continue.
Peter Clegg, 2011