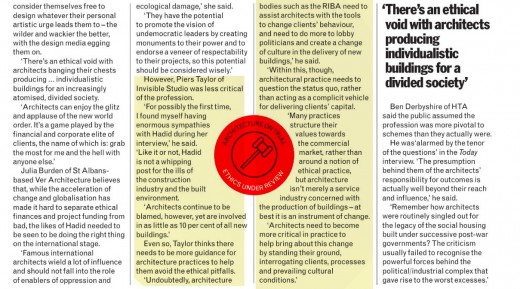 Piers Taylor's comments were included in an article on architectural ethics in the Architect's Journal. Taylor's edited comments are above – his whole comment is reproduced here:
"There are almost no ethical guidelines provided by the RIBA. The RIBA considers ethics to be serving your client, keeping your mouth shut and not queering your pitch with any concern with wider moral issues. In short, take your clients money, give him what he wants and don't ask any questions. 
If architects do talk about morality, it is often a phoney morality structured around architectural concerns – as if producing a building that is architecturally inspired and formally well considered absolves them from any deeper engagement with either the motivations of a client, the needs of a user or indeed the needs of their own staff. 
Sadly very few privately funded projects have any ambition beyond the short term view and needs of a client, and many architects see no easy way not to subjugate their own moral positions in fear of losing valuable fee paying work. I've been guilty of this too, and I've done all sorts of things in architecture that fill me with self loathing. 
Now, my practice generally attempts not take on any privately funded projects and certainly no private houses, as they almost never engage with any wider issues beyond the superficialities of their own physical actuality and their clients vanities. Regardless of Mies' banal and self serving 'God in the Details' meditation, there is never any substance in architectural concerns that are solely material. 
Ideals are typically considered naive by the bulk of the profession, and certainly by the RIBA, who remain utterly toothless, spineless and cringingly corporate. Once, practice was critical as a matter of course. Now, it is usually unthinkingly commercial by design, encouraged as we are by a feeble RIBA to serve clients needs in a simpering and obedient manner.
Practice is hard enough. But architects need more from their professional body than sandcastle competitions and self congratulatory awards. The RIBA has never demonstrated architects value beyond the commercial. Terrified of controversy, it has never fought our corner, and helped champion the role of thinking, feeling practitioners who want to create change."