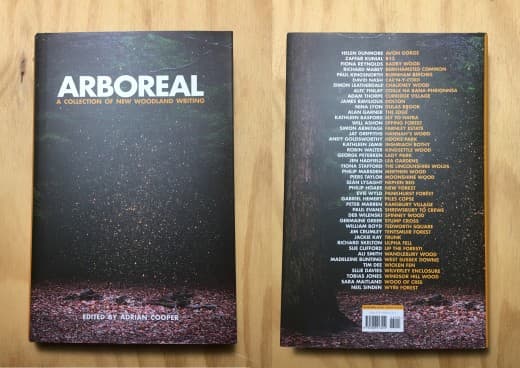 We are delighted that ARBOREAL has been published – which Piers Taylor contributed an essay to.
Common Ground: 'A new collection of writing about the importance of trees and woods in the landscape. Demonstrating the good things happening in woodlands around the country today, the book will also explore the history, literature, folk culture and meaning of trees and woodlands. Combining essays written by practitioners in woodland architecture, art, education or forestry, along with authors attuned to the literature and ecology of woods, we hope to show why these undervalued landscapes are so important and how they could become a more vibrant part of our lives again.
The project has deep roots. Common Ground's Trees, Woods and the Green Man project started to explore the natural and cultural value of trees in 1986, and worked to widen popular concern and practical caring for trees in town and country, mainly through collaborations with artists, sculptors, illustrators, poets, cartoonists, playwrights and writers. Common Ground initiated several touring exhibitions – 'The Tree of Life' with the South Bank Centre, 'Out of the Wood' with the Crafts Council, as well as Andy Goldsworthy's 'Leaves' at the Natural History Museum. We also wrote and published In a Nutshell, a practical guide to tree care, Trees be Company, an anthology of poetry, and PULP!, a newspaper all about trees, published after the storm of 1987.
The anthology will be dedicated to Oliver Rackham, the outstanding botanical and landscape writer of this generation, who died in February 2015. His loss means that trees and woodlands have also lost a voice. We hope the anthology will demonstrate that there are many other voices who care about about the future of woodlands and cherish our relationship with trees.
Contributors include: Richard Mabey, Germaine Greer, Paul Kingsnorth, Kathleen Jamie, Ali Smith, Peter Marren, Jay Griffiths, Alan Warner, Tim Dee, Fiona Stafford, Philip Hoare, Sara Maitland, George Peterken, Fiona Reynolds, Helen Dunmore, Jen Hadfied, Jim Crumley, Evie Wyld, Madeleine Bunting, Andy Goldsworthy and Piers Taylor.
"Stop letting the anthropology of commerce overrule the practical world. Stop treating trees as mere articles of trade, like cars or tins of paint, to be made and brought in industrial quantities from anywhere." OLIVER RACKHAM