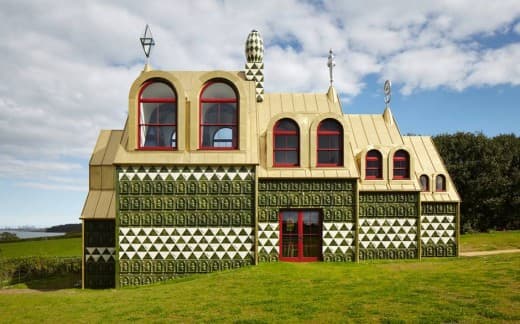 Andy Ramus' letter in the Architects' Journal (06 May 2016) demonstrates exactly what is wrong with the RIBA Awards – and by association the RIBA. In his evaluation of FAT/Grayson Perry's House for Essex he is unable to provide an adjective other than 'wacky' to demonstrate why the house was not the recipient of a 2016 regional award.
Ramus continues to suggest that 'Judges with great seriousness' score a project using a thinly cloaked restatement of Vitruvius' banal 'Firmness, Commodity and Delight' . As Jeremy Till points out in Architecture Depends "it is the apparent stability and presumed logic [of this trilogy] that provide a form of legitimation for the construction of a [cod] philosophy' – presenting any project that that embodies these three 'virtues' as defacto 'good' architecture beyond refute.
Ironically – A House for Essex accords completely with this Vitruvian triumvirate, being well built, fit for purpose and enchanting – as well, of course as quick-witted, engaging, adept, astute, authentic, skilful, inventive and, let it be said, sagacious.
That there may be another, more pluralistic architecture that is not limited to a derivative and formulaic reinterpretation of an outmoded and indubitable phony ontology is clearly beyond Ramus. That the RIBA sanctions an award system presided by such jurors smacks of an institution so hell bent on preserving architecture's status quo and reaffirms it as the enervated, devitalised and antediluvian institution it has become, incapable of contributing any relevant, engaging or useful debate to the world of architecture it seeks to champion.
Yours
Piers Taylor
07 May 2016