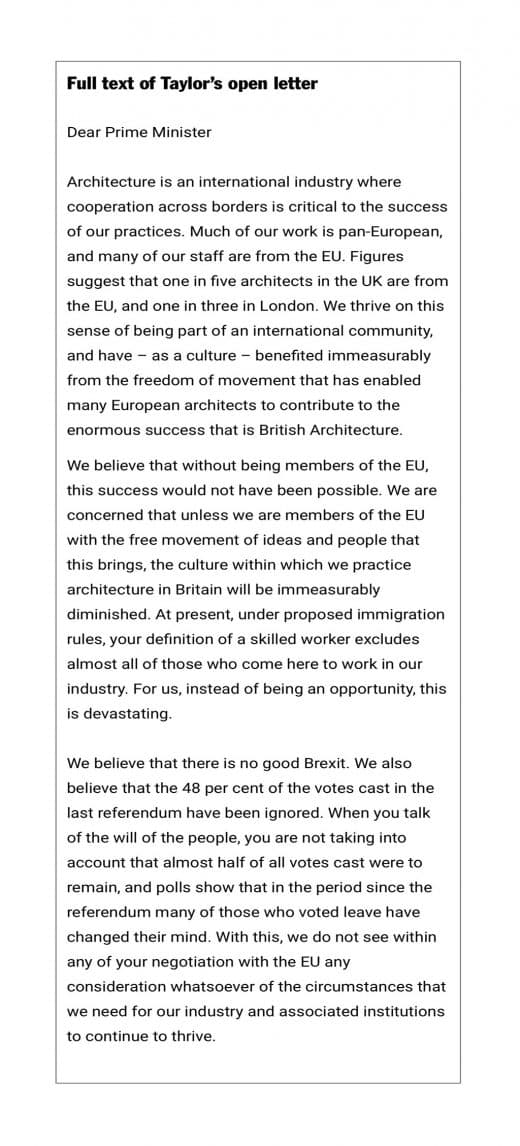 Piers Taylor of Invisible Studio organised an open letter to the British Prime Minister outlining the potential consequences of Brexit on the UK architecture industry. This letter and selected signatories are below:
Dear Prime Minister
Architecture is an international industry where cooperation across borders is critical to the success of our practices. Much of our work is pan-European, and many of our staff are from the EU. Figures suggest that 1 in 5 architects in the UK are from the EU, and 1 in 3 in London. We thrive on this sense of being part of an international community, and have – as a culture – benefitted immeasurably from the freedom of movement that has enabled many European architects to contribute to the enormous success that is British Architecture. We believe that without being members of the EU this success would not have been possible. We are concerned that unless we are members of the EU with the free movement of ideas and people that this brings, the culture within which we practice architecture in Britain will be immeasurably diminished. At present, under proposed immigration rules, your definition of a skilled worker excludes almost all of those who come here to work in our industry. For us, instead of being an opportunity, this is devastating.
We believe that there is no good Brexit. We also believe that the 48% of the votes cast in the last referendum have been ignored. When you talk of the 'Will of the People', you are not taking into account that almost half of all votes cast were to remain, and polls show that in the period since the referendum many of those who voted leave have changed their mind. With this, we do not see within any of your negotiation with the EU any consideration whatsoever of the circumstances that we need for our industry and associated institutions to continue to thrive.
Yours faithfully
Lord Norman Foster – Foster & Partners
Lord Richard Rogers – Rogers Stirk Harbour
Sir David Chipperfield – David Chipperfield Architects
Spencer de Grey – Foster & Partners
Steve Tompkins – Haworth Tompkins
Niall McLaughlin – Niall McLaughlin Architects
Cindy Walters – Walters & Cohen
Gianni Botsford – Gianni Botsford Architects
Koen Steemers – University of Cambridge
Steven Bates – Sergison Bates
Peter St John – Caruso St John
Paul Monaghan – Allford Hall Monaghan & Morris
Ted Cullinan – Cullinan Studio
Kate Goodwin – Royal Academy
Harriet Harriss – RCA
Sophie Twohig – Hopkins Architects
Robin Nicholson – Cullinan Studio
Daniel Rosbottom – DRDH
Graham Haworth – Haworth Tompkins
Bob Allies – Allies & Morrison
Gerard Maccreanor – Maccreanor Lavington
Jeremy Till – Head, Central St Martins – University of the Arts London
Jo Wright – Arup Associates
Simon Usher – MUMA
Dean Hawkes – University of Cambridge
Toby Johnson – Haworth Tompkins
Peter Oborn – Peter Oborn Associates
Robert Mull – Professor of Architecture, University of Brighton
Martin Gledhill – University of Bath
Glenn Howells – Glenn Howells
Roger Watts – Haworth Tompkins
Chris Fellner – Haworth Tompkins
Joe Kerr – Syracuse University
David Lloyd Jones – Herbert & Partners
Hannah Durham – Cullinan Studio
Stephen Taylor – Stephen Taylor Architects
Dr Tom Holbrook – 5thStudio
Ffion Stephenson – University of Sheffield
Roddy Langmuir – Cullinan Associates
Russell Curtis – RCKa Architects
Simon Henley – Henley Hale Brown
Piers Taylor – Invisible Studio
Alan Stanton – Stanton Williams
Andrew Grant – Grant Associates
Meredith Bowles – Mole Architects
Joe Morris – Morris & Co
Peter Clegg – Feilden Clegg Bradley Studios
David Howarth – DRDH Architects
Paul King – Sheffield Hallam University
Damian Field – Damian Field Architects
Joe Giddings – Architect
Nicola Du Pisanie – Stonewood Design
Jeremy Poulter – Jeremy Poulter Architects
Christopher Daniel – Polysemic
Anna Gibb – Anna Gibb Architects
Chris Boyce – Assorted Skills & Talents
Victoria Simpson – DLG Architects
Paul Testa – Paul Testa Architects
Barbara Kaucky – Erect Architetcure
Susanne Tutsch – Erect Architecture
Fergus Feilden – Feilden Fowles
Stephen Hodder – Hodder Associates
Niall Maxwell – Rural Office for Architecture
Keith Williams – Keith Williams Architects
Tom McGlynn – Niall Mclaughlin Architects
Marcus Adams – JTP Architects
Angus Morrogh Ryan – De Matos Ryan Architects
William Haggard – Carver Haggard Architects
Rob Wells – BD Landscape Architects
Thomas Bryans – IF_DO Architects
David Ayre – Ayre Chamberlain Gaunt
Pete Swift – P-IE
Sasha Edmonds – LIV Architects
Magnus Strom – Strom Architects
Bob Ghosh – K4
Pierre Wassenaar – Architect
Madeleine Kessler – Haptic Architects
Gayle Appleyard – Gagarin Studio
Anna Gibb – Allies and Morrison
Tom Goldthorpe – Hodder & Partners
Nick Riley – Whittam & Cox Architects
Marc Dix – LT Studio
Nicky Robinson – LT Studio
Dinah Bornat – ZCD Studios
Cordula Weisser – ZCD Studios
Alison Brooks – Alison Brooks Architects
Anthony Thiselton-Smith – Waugh Thisleton
Andrew Waugh – Waugh Thiselton
Patrick Lynch – Lynch Architects
Claudia Lynch – Lynch Arhcitects
Zara Bloomfield – Studio Bloom
Maria Prieto Moreno – PDP London
Harriet Bourne – BBUK
Roland Karthaus – Matter Architecture
Jay Morton – Bell Phillips
Robin Webster – Cameron Webster
Tim Bell – Bell Phillips
Barbara Weiss – Barbara Weiss Architects
Alex Wilford – Bell Phillips
Tom Ebdon – Head of School, Falmouth
Leila Westrope – RJA LLP
Paul Seamarks – Anderson Orr
Iacopo Sassi – Square One Architects
John Curry – Architect
Richard Portchmouth – BPR Architects
Ian McHugh – Green Triangle
Simon Foxell – The Architects Practice
Yasmin Shariff – Dennis Sharp Architects
Armin Ganguly – Ganguly Architects
Nick Simpson – Architect / Newcastle University
William Haggard – Carver Haggard
Robert Phillips – Cartwright Pickard
Paul Warwick – Architect
Michael Russum – BPR
Charles Thomson – Studio 54
Sarah Delaney – SL Design
Oliver Richards – ORMS
Andrew Morris – Senior Partner – Rogers Stirk Harbour
Darren Jones – Shed KM
Ruth Lang – CSM
Vincent Lacorava – Croydon Council
Paul Beatty Powell – BPR
Will Burges – 31/44
Chris Lamb – D:SE
Arita Morris: CGL UK
Ines Zaid – BGS Architects
Vasiliki Simeonidou – Architect
Wendy Perris – Pad Studio
Mark Marshall – Daykin Marshall
Philip Graham – Culinan Studio
Keir Regan Alexander – Morris & Co
Dave King – Shed KM
All 12 Partners: Rogers, Stirk Harbour
Plus many more not included here